Ecodesign legislation and its implications for the stove industry
Ecodesign is the European Union's programme for lowering emissions across Europe.
Ecodesign is due to be implemented on 1st January 2022 for wood burning and multi fuel stoves.
Although much of the attention has been focused on wood burning, the regulations apply to all solid fuel stoves, including boiler stoves. Having said that, the manufacturer must declare the fuel that will be used in the stove. The designated fuel must be tested with the stove. A multi fuel stove designated to burn coal will have a separate set of results to the same stove with wood. Most manufacturers will declare and test their stoves with wood.
In addition to minimum energy requirements, the regulations will cover a broad range of emissions:
Particulate Matter (PM10 & PM2.5), CO2, NOx, OGC (Other gaseous carbon) and CO. The new emission limits are significantly lower and more comprehensive than those required for DEFRA Exemption.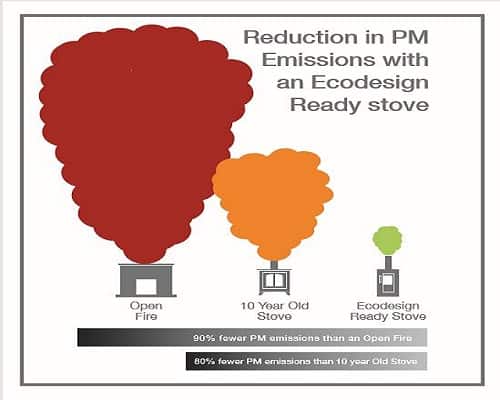 The minimum net efficiency levels will effectively increase to 40% for an open fire and to 75% for closed stoves.
(The efficiencies are calculated using a calculated "seasonal space heating efficiency"). For stoves, this is a 4% increase in efficiency.
Unlike the requirements for DEFRA Exemption, which only applies to smokeless zones the Ecodesign regulations will apply to the whole country, so no matter where a new stove is to be installed it must comply with Ecodesign.
It will be illegal to manufacture and sell new stoves from 1st January 2022 that do not comply with the Ecodesign requirements. However, stoves that are already in the supply chain (manufacturers', distributors', retailers' warehouses or retailers' showrooms) can be sold after this date. An Ecodesign Enforcement Team has been set up within the National Measurement Office to verify that products sold comply with the regulations.
---
---