Description
insert idra maxi
The idra pellet-burning inserts collection enhances itself with a new model, even more powerful. From the elegant and the modern design, it offers high thermal efficiency and energy saving, thanks to the vertical pipes heat exchanger THERMOCORE®, heavy cast iron burning grate and firebox door. Equipped with the PELLETPOWER® innovative patented burner, it assures easier cleaning operations, equipped with a removable wide ash pan as standard. An easy and rapid installation is its distinguishing feature.
Heatable area
222 m².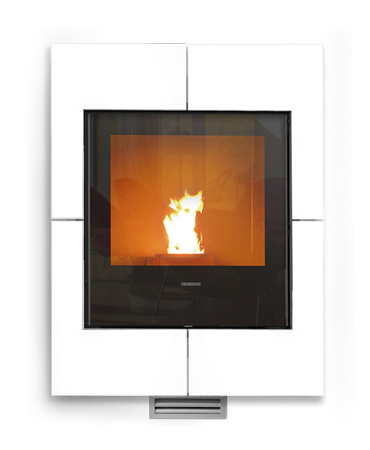 DIMENSIONS (HXWXD)

    1227X755X600

HEATABLE AREA (M²)*A*C

    222

EFFICIENCY UP TO MAX (%)*A

    93,7%

POWER TO THE HEART (KW)*A

    6,6 – 26,4

RATED POWER (KW)*A

    6,2 – 24,7

POWER TO THE WATER (KW)*A

    4,6 – 20,3

RADIATION (KW)*A

    1,6 – 4,3

HOURLY PELLET CONSUMPTION (KG/H)*A

    1,4 – 5,5

WOOD HOURLY CONSUMPTION (KG/H)*A

     –

PELLET HOPPER CAPACITY (KG)*A

    37,0

MAXIMUM SINGLE DUCTING OUTLET (M)

    –

PATENTED BURNER PELLETPOWER®

    SI

PRIMARY AIR FROM OUTSIDE

    SI

CO EMISSIONS (MG/M³; 13% OF O2)*A

    31,8

CO EMISSIONS (MG/M³; 10% OF O2)*A

    –

DUST EMISSIONS (MG/M³; 13% OF O2)*A

    14,9

DUST EMISSIONS (MG/M³; 10% OF O2)*A

    –

RADIO CONTROL WITH ROOM TEMPERATURE THERMOSTAT

    –

WEEKLY PROGRAMMER (3 DAILY LIGHTING)

    SI

«SMART INFO» FUNCTION

    SI

SYSTEM CIRCULATING PUMP

    SI

OVER PRESSURE VALVE

    SI

FLUE GASEXHAUST DIAMETER (MM)

    100

MIN. FLUE DRAUGHT PRESSURE (PA)

    10

ELECTRIC CONSUMPTION (WATT)

    90-340

HIGH TEMPERATURE SAFETY THERMOSTAT

    SI

*A EMISSIONS AND PERFORMANCE DATA MAY CHANGE ACCORDING TO THE FUEL USED. THE VALUES OF PELLET PRODUCTS HAVE BEEN OBTAINED BY USING CERTIFIED FUEL ACCORDING TO EN 14961-2 A1-A2 NORM. WOOD LOGS PRODUCTS VALUES MAY VARY ACCORDING TO THE TYPE AND QUALITY OF THE WOOD LOGS USED.

*B PROVISIONAL DATA UNDER CERTIFICATION

*C IMPORTANT: WHEN CALCULATING THE VOLUME OF THE "HEATED AREA" SOME RELEVANT ASPECTS MUST BE CONSIDERED: INSULATION OF THE BUILDING (ENERGY CLASS), POSITION OF THE HEATER, CLIMATIC AREA AND MORE ASPECTS THAT CAN AFFECT THE VALUES OF PERFORMANCE. REPORTED DATA HAVE BEEN CALCULATED ON THE BASE OF ROOF NOT HIGHER THAN 3 MTS.

THE MANUFACTURER RESERVES THE RIGHT TO MAKE CHANGES WITHOUT PREVIOUS NOTICE.
---